Easter Peeps Cake
Here's a cute and easy cake to serve at your Easter party.  All you need is a cake mix and frosting, shredded coconut, peeps and some egg shaped Easter candy.
Start with a coconut or carrot cake mix and prepare according to package directions for 2 layer round cake.
When the cake layers have cooled, frost with white frosting, your favorite flavor.  (I love buttercream or cream cheese)  Arrange the Peeps around the top edge of the cake.  Place one peep in the middle.(see photo)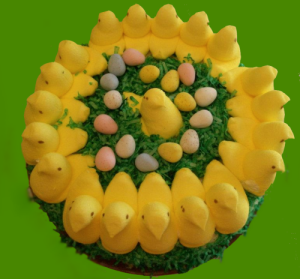 Tint shredded coconut by dropping a few drops of green food coloring in a large ziplock bag.  Dump in half a bag of coconut, seal the bag and then shake it up until the shredded coconut is all tinted green.  The more drops of food coloring, the darker the "Easter grass" will be.
Sprinkle the shredded coconut over the top of the cake and press onto the sides of the cake.  Sprinkle egg shaped Easter candies in the middle of the top of the cake.  
And there you have it!  An easy and adorable Easter Peeps Cake to be the star of your Easter dinner.  🙂
Pin it!  Here's the link: http://www.pinterest.com/pin/280278776784008581/
If you like my recipes, be a sweetie pie and share on Facebook,
Like my page "I Love To Cook" and Pin these yummy recipes on Pinterest.  🙂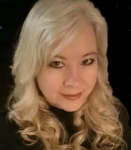 Powered by Wordpress Plugins - Get the full version!