Tomato Pie is a perfect light dinner for summertime.  If you've got a few nice fresh tomatoes that you don't know what to do with, give this delicious tomato pie recipe a try.  As you can see, before I could even get around to taking a picture, a couple slices had mysteriously disappeared.  This is a lighter version than the Paula Deen tomato pie, which I found to be delicious, but also very heavy and greasy.  Give this lighter tomato pie recipe a try and enjoy the fresh tomatoes of summer.
Ingredients:
4 medium tomatoes
8 fresh basil leaves, thinly sliced
4 oz sliced prosciutto (or 4 slices of crisp bacon, crumbled)
1 frozen prepared pie crust
1/4 cup Panko bread crumbs
2 tablespoons grated Parmesan cheese
dash(es) garlic powder, dried oregano, dried basil
salt & pepper
1/3 cup light mayonnaise
1/3 cup garlic/herb cheese spread
Directions:
Preheat oven to 400°F
Slice tops off of tomatoes and scoop out and discard tomato seeds.  Slice tomatoes 1/4″ thick.  Lay tomato slices on a clean kitchen towel and lightly sprinkle with salt on each side.  Let sit for 15 minutes or so then press with another towel to soak up excess moisture from tomatoes.  This step prevents the pie from being mushy.
While waiting for tomatoes to dry out, slice prosciutto (or cook and crumble bacon).
Prick bottom and sides of pie crust.  Place on baking sheet (for easier handling) and bake for 8 – 10 minutes.
In a small bowl, combine bread crumbs, Parmesan cheese, garlic powder, dried oregano and dried basil.
In another small bowl, mix together the light mayonnaise, garlic/herb cheese spread and fresh basil.
To assemble the tomato pie, sprinkle 2 teaspoons of the bread crumb mixture into the pie crust.  Layer 1/2 of the tomato slices into the pie crust, sprinkle with salt and pepper then 1/2 of the prosciutto (or bacon).  Top with the mayonnaise – herb cheese mixture – spread evenly.  Repeat layers of tomato, salt, pepper, prosciutto (or bacon).  Sprinkle the remaining bread crumb mixture evenly over the top layer.
Bake for 20 – 25 minutes or until tomatoes are soft and topping is lightly browned.
May be served warm or cold.
Only 230 calories per 1/8th of pie.
This recipe is my modified version of a Publix Aprons recipe.
If you like my recipes, be a sweetie pie and share on Facebook,
Like my page "I Love To Cook" and Pin these yummy recipes on Pinterest.  🙂
Here's the Pinterest link for this recipe:  Lighter Tomato Pie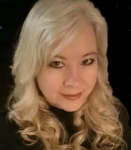 Powered by WordPress Plugins – Get the full version!