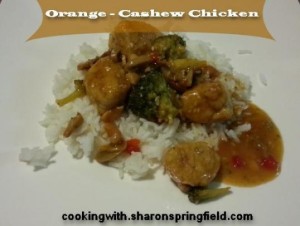 Orange – Cashew Chicken
Chicken:
1 lb chicken breast, cubed
1/4 cup flour
1 T flour
a couple dashes of paprika & garlic powder
2 T butter
Sauce:
1 cup orange juice
1 T cornstarch
1 tsp ground ginger
1 tsp minced garlic
fresh ground white pepper
1/4 cup orange marmalade
Veggies:
2 cups broccoli florets
1 (4 oz) can sliced mushrooms (drained) or use fresh sliced
2 T diced pimento (or fresh diced red bell pepper)
Toppings:
1/4 cup cashews
1 tsp sesame seeds
Directions:
Put flour, cornstarch, paprika and garlic powder in a large ziplock and mix around until blended.
Add chicken and toss until well coated.
Melt the butter in a large deep sided skillet or a wok. Add chicken (shake off excess flour) and stir fry until
chicken is golden brown and is done inside (firm when pressed on with spoon). Remove chicken to a bowl.
Whisk together the sauce ingredients and pour into the skillet. Add the veggies and stir until sauce thickens
and veggies are crisp tender. Stir in chicken and the toppings. Stir over steamed rice.
Orange Cashew Chicken Recipe
Connect with me! 🙂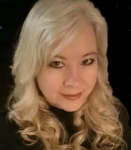 Sharon Springfield