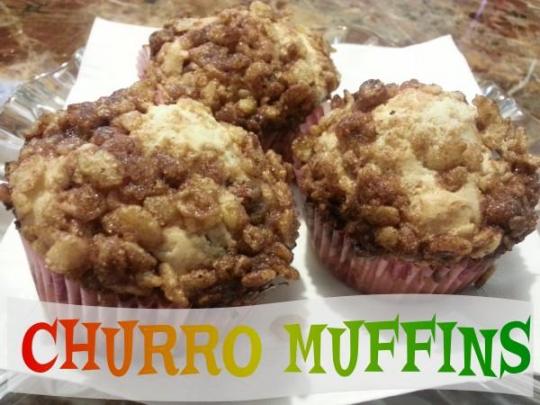 Churro Muffins
If you love cinnamon and sugar and the crunch of Churros, you're going to love this recipe for Churro Muffins!  These tasty muffins are loaded with cinnamon chips inside and have a crunchy sweet topping made from a surprise ingredient.  Share this Churro Muffins recipe with all your family and friends who love the great combination of brown sugar and cinnamon.
Churro Muffin Topping Ingredients:
3 tablespoons softened butter
1/2 cup brown sugar
1 cup rice krispies cereal
In a small bowl, stir together the above ingredients until the rice cereal is coated.  Looks like this: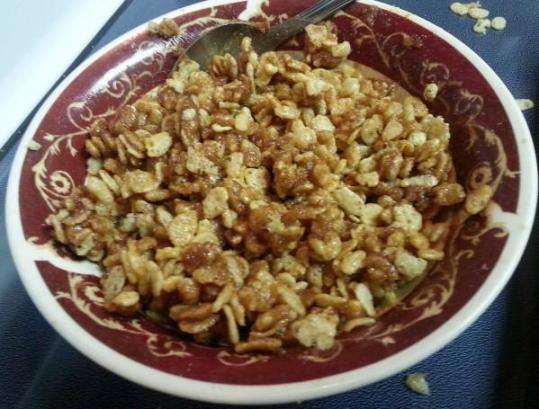 Churro Muffin Batter:
1 3/4 cup all-purpose flour
1/3 cup sugar
2 teaspoons baking powder
1/4 teaspoon salt
1 teaspoon cinnamon
1 beaten egg
3/4 cup milk
1/4 cup canola oil (or other cooking oil)
1/2 cup cinnamon chips
Preheat oven to 400° F.
Prepare muffin tins by greasing with nonstick spray.
In a mixing bowl, combine the dry ingredients.  Stir in the egg, milk and oil, mixing only until the dry ingredients are moistened.  Fold in the cinnamon chips.  Spoon into muffin tins, filling 2/3 full.  Sprinkle the topping over each muffin.  Bake for 15 minutes.
(This is how they look before they go into the oven.)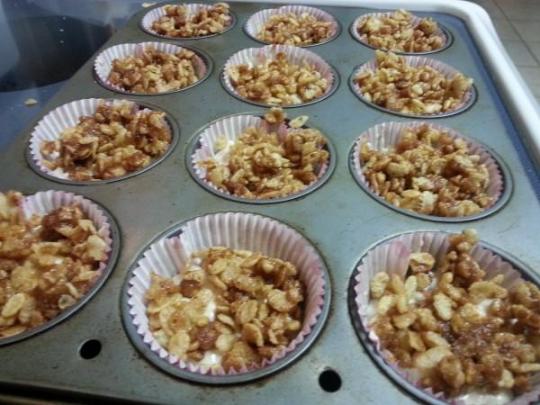 They smell amazing!  If you love cinnamon, this is a recipe you will love!
These cinnamon-sugar Churro Muffins are great with breakfast and coffee.
Pin This Recipe! Churro Muffins
http://www.pinterest.com/pin/280278776783588427/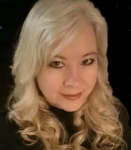 Sharon Springfield