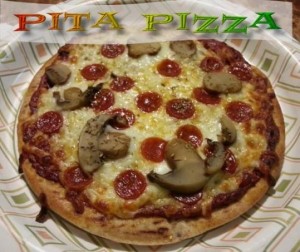 These cute little Pita Pizzas are so quick to make for a last minute dinner or anytime snack.
Ingredients:
1 small can tomato paste
1 heaping teaspoon minced garlic
1 tablespoon pesto
1 teaspoon sugar
fresh ground pepper to taste
Pita bread
Shredded mozzarella cheese
Pizza toppings of your coice.  (Pepperoni, mushrooms, etc.)
Preheat oven to 350° F.
In a small bowl, mix together the first 5 ingredients to make the pizza sauce.
Place pita bread on baking pan.  Spread tops with a layer of pizza sauce.  Top with shredded mozzarella cheese and your favorite pizza toppings.
Bake for 7 to 10 minutes.  Watch carefully so they don't overcook.
Experiment with different toppings for your pita pizzas.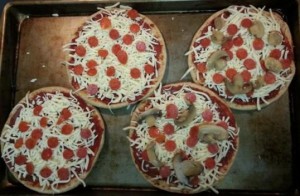 One of my favorites is Barbeque Chicken Pita Pizzas.  To make, use barbeque sauce instead of tomato sauce and top pizza with Monterey Jack cheese, shredded cooked chicken and bacon crumbles.
Hawaiian Pita Pizza:
Top pizza with tomato sauce, diced cooked ham,, pineapple tidbits and mozzarella cheese.
Have fun with this Pita Pizza Recipe.  One year for my daughter's birthday slumber party, I did custom pita pizzas for each girl and gave them a little menu card to check off what toppings they liked.  It was a big hit!  Everyone loves Pita Pizzas!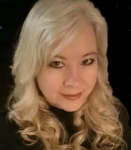 Sharon Springfield