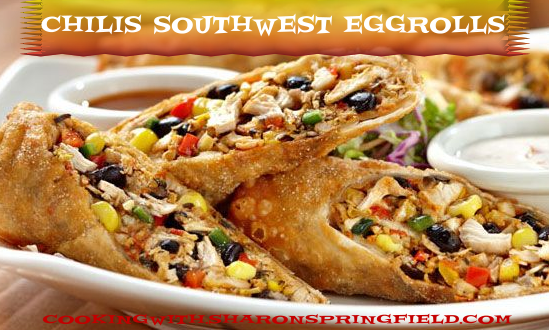 Copycat Chilis Southwest Eggrolls
This popular appetizer can be made at home and with less calories because it's baked, not deep fried. So double or triple the recipe and make this at your next party!
Chili's Southwest Eggrolls
3 flour tortillas, not large (LaTortilla Factory Brand Originals LowFat LowCarb)
1 ounce chicken, cooked and shredded
2 tablespoons black beans, canned
2 tablespoons corn, canned
1 ounce fat free cheese, shredded (your choice of kind)
1 tablespoon red chili pepper, diced
3/4 cup frozen spinach, thawed and drained
Dip Ingredients:
2 tablespoons avocados
2 tablespoons nonfat sour cream
1/2 teaspoon Hidden Valley Ranch mix powder (or homemade Ranch Dressing mix)
1 tablespoon tomato, diced
pepper
Preheat oven to 400 degrees. Combine chicken, corn, cheese, chili pepper, and spinach in a microwaveable bowl. Heat for 30 seconds in micro. Warm tortillas in micro for 15 seconds. On a clean, flat surface, lay out tortillas side-by-side. Put 1/3 of chicken mix in the center of each tortilla. To assemble each roll, fold the left and right sides in so no filling escapes during cooking, and roll up. Place all 3 rolls seam side down on a baking pan that has been sprayed. Bake 12 minutes, flipping 1/2 way through cooking.
While eggrolls are in the oven prepare dip.
Dipping Sauce:
Combine sour cream, avocado, and ranch dressing mix in a small bowl until smooth. Season to taste with pepper. Top dip sauce with tomatoes before serving. When eggrolls are done, allow to cool for a few minutes, then cup diagonally.
2 Servings
Pin this on Pinterest!  Here's the direct link: http://www.pinterest.com/pin/280278776784032746/
If you like my recipes, be a sweetie pie and share on Facebook,
Like my page "I Love To Cook" and Pin these yummy recipes on Pinterest.  🙂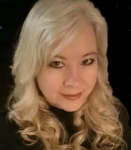 Powered by Wordpress Plugins - Get the full version!