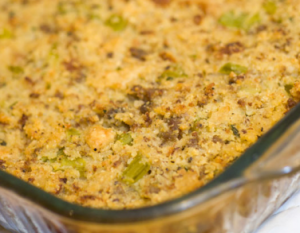 This Southern Cornbread Dressing is the best I have ever tasted!  In the past I've just made the stuffing that comes from the plastic bag.  You know, the dried crumby kind that was probably bread made in 1957.  And it takes a couple gallons of liquid to re hydrate it. Far from fresh and tasty.  Well this thanksgiving, I scoured around for a great recipe for southern cornbread dressing and I started off with a recipe from Paula Deen and of course, had to tweak it just a little to make it my own.  The results were absolutely the best southern cornbread dressing that any of our family had ever tasted.  So here's how I made it.  Give it a try and let me know if you liked it.
Southern Cornbread Dressing – Cornbread
1 cup self-rising cornmeal
1/2 cup self rising flour
2 tablespoons sugar
3/4 cup buttermilk
2 eggs
2 tablespoons vegetable oil
Whisk together all ingredients listed above.  Pour batter into a greased 9×9″ baking dish.  Bake at 350° F for 20 to 25 minutes.  Let cool completely.  Crumble cornbread up into fairly small chunks.  Use to make Southern Cornbread Dressing.(recipe follows)
Southern Cornbread Dressing
Cornbread Crumbs (from above recipe)
8 slices oven dried bread
1 sleeve Ritz crackers, crumbled
8 tablespoons butter
2 cups celery, very thinly sliced, chopped
1 large onion, thinly sliced, chopped
3 cups chicken broth
1 can cream of mushroom soup
1 can cream of chicken soup
1 teaspoon salt
freshly ground pepper
1 teaspoon sage
1 tablespoon poultry seasoning
5 eggs, beaten
Mix together the cornbread crumbs, cracker crumbs and crumbled dried bread in a large bowl.  Set aside.
Melt the butter in a large frying pan, add the celery and onion and cook until onions and celery are tender, about 10 minutes over medium-high heat.  Pour over the crumbs.  Add the broth, soups and crumbs.  Mix until well combined.  Sprinkle seasonings over and stir them in well.  Stir in the beaten eggs.  Mix all well.  Pour into a greased 9×13″ baking pan.
Bake for about a hour at 325°
This is one to keep and try.  I know you will enjoy this Southern Cornbread Recipe as much as my family and I have.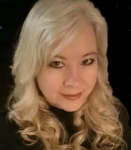 Sharon Springfield