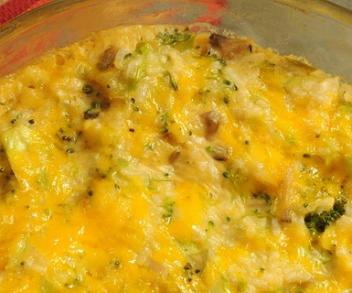 Low Fat Broccoli Rice Casserole
Low Fat Broccoli Rice Casserole.  This is a spin off of a recipe from my mother-in-law that used Minute Rice, frozen broccoli and Cheez Whiz.  I'm more into fresh foods, the less processed the better, so I healthy-tized it.  But it's still creamy and cheesy and really great.  Hope you'll try it and love it too!
Low Fat Broccoli Rice Casserole Ingredients:
2 cups water
1 cup rice
2 cups fresh broccoli florets
1 package fresh mushrooms, sliced
1 can fat free cream of mushroom soup
1 can fat free cream of chicken soup
1 soup can low fat milk
2 cups shredded cheddar
salt & pepper
Low Fat Broccoli Rice Casserole Instructions:
In a medium saucepan, bring salted water to a boil, add rice, lower heat to a simmer and steam with lid on for 10 minutes.  Add the broccoli and mushrooms and continue to cook until the rice and broccoli are tender, approximately another 10 minutes.  Stir in the rest of the ingredients, reserving 1/2 cup of cheese.  Spread into a buttered casserole dish and sprinkle reserved cheese on top.  Bake at 350°F oven for 30 minutes.
This low fat broccoli rice casserole can be vegetarian friendly if you use 2 cans cream of mushroom soup and omit the cream of chicken soup.  When I was a vegetarian, this was something I used to make frequently for dinner.
Give this Low Fat Broccoli Rice Casserole a try this Thanksgiving.
Don't forget to check out the other posts in my blog.  This week I'm featuring my favorite Thanksgiving dishes with you.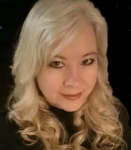 Sharon Springfield