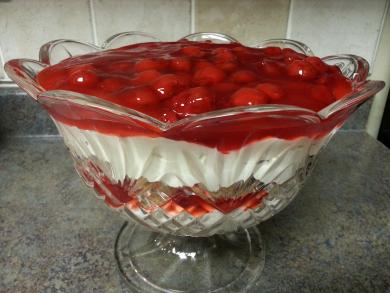 Cherry Cheesecake Trifle
This delicious Cherry Cheesecake Trifle recipe was something I threw together one year for our family Christmas dinner party.  I saw something similar in a magazine but they used a different kind of filling.  Since we all love cheesecake, I knew this would be a big hit in our family.  This cherry cheesecake trifle recipe is fast and easy to put together.  It only takes a few minutes to mix up the filling and layer it in the trifle dish.  I prepare this cherry cheesecake trifle recipe at least one day ahead and let it chill out in the refrigerator, so that the croissants soften up and the flavors have time to mingle.  Of course, you could use different pie fillings to change this to your liking.  I have only tried the cherry but I'm sure this could be made with whatever kind of canned pie filling you love.  I hope you enjoy this Cherry Cheesecake Trifle Recipe!
Cherry Cheesecake Trifle Recipe Ingredients:
5 medium croissants
1 box instant no-bake cheesecake filling
1 3/4 cup milk
1 8-oz. tub of Cool Whip, thawed
2 cans cherry pie filling
Cherry Cheesecake Trifle Recipe Directions:
Tear the croissants into small pieces, about an inch in size.  Layer the bottom of your trifle dish with half of the croissants.
Mix together the cheesecake mix and milk until thoroughly blended.  Add the cool whip and mix just until combined.  Layer about half of the cheesecake filling over the croissant layer in your trifle dish.
Top the cheesecake layer with one can of cherry pie filling.
Repeat the layers, ending with the cherry pie filing on top.  Cover with plastic wrap and refrigerate.  This tastes best if you make it a day ahead so the croissants become softened.
I hope you enjoy this Cherry Cheesecake Trifle and experiment with other variations.  It's such an easy and elegant dessert that will make you look like a cooking goddess!
Cherry Cheesecake Trifle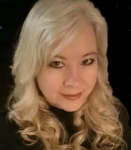 Sharon Springfield