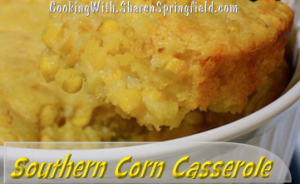 This southern classic – Corn Casserole – is rich and buttery, sweet and creamy and a must have at our family gatherings for holidays like Thanksgiving and Christmas.  This goes well as a side dish for spicy dishes like Chili, Cowboy Stew, and Cheesy Manwich Chicken Pasta.
1 cup self-rising cornmeal
3/4 cup self rising flour
1/4 cup sugar
dash of salt
1/3 cup melted butter
1/2 cup sour cream
1 egg
1 can creamed corn
1 1/2 cup buttermilk
Whisk together the dry ingredients in a mixing bowl.  Add the next 4 ingredients and stir just until combined.  Pour into a greased 2 quart casserole dish.  Bake at 400° for approximately 30 minutes.  The middle should not jiggle when pan is shaken around.  If its not firm then bake longer.
Spoon it out to serve.
This is similar to the recipe using Jiffy corn muffin mix, but I like to avoid pre-packaged foods whenever possible.  You could use a cornbread mix if you want and omit the cornmeal and flour.  I hope you enjoy my recipe for Southern Corn Casserole.  If so, share with your friends and Pin it on Pinterest.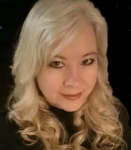 Sharon Springfield