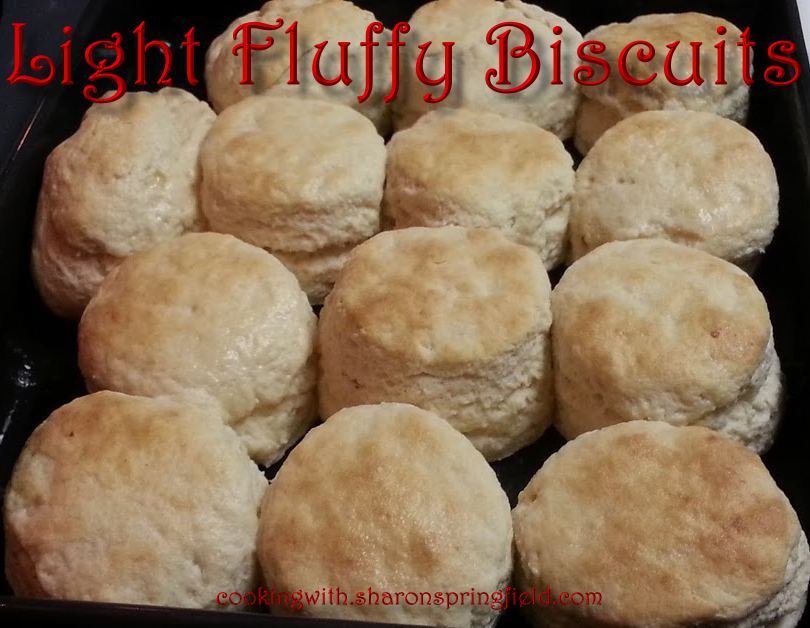 "Where's the Biscuits?"   This is what my husband will jokingly say if I make a nice big dinner and there aren't any biscuits.  So last night for dinner, I made these light, fluffy biscuits so that he wouldn't be able to make his little joke.  What a spoil sport I am!
There are a few tricks to making great fluffy biscuits.  First of all, use cold butter cut into thin slices and cut it into the flour with a pastry cutter.
Add the milk all at once to the flour and stir it up with a fork.  Add additional flour until the dough is no longer sticky.  I usually end up adding up to 3/4 cup additional flour.
When you knead the dough, fold it over in half and press it down then repeat that about 4 or 5 times then put it on the counter to roll them out.
If you place the cut out biscuits with their sides touching in your baking pan, they kind of assist each other in rising up tall, versus spreading them apart on the baking dish.
After the biscuits are baked, brush the tops with melted butter.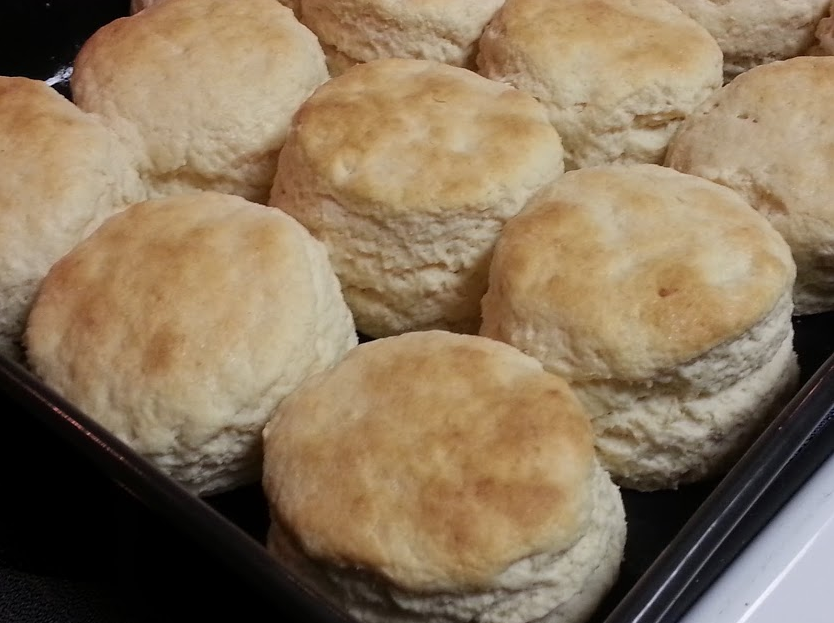 Ingredients:
2 cups self rising flour
1 tablespoon sugar
1 stick of butter
1 1/4 cup half & half
Directions:
Preheat oven to 450° F.  Combine flour and sugar in mixing bowl.  Cut butter into flour until crumbly.  Stir in half & half until moistened.  Add additional flour as you knead the dough until the dough is no longer sticky.
Sprinkle a little flour on a clean counter and rub some flour on your rolling pin.  Place the dough on the counter and roll it out to 1/2 – 3/4″ thickness.  Cut out biscuits using a round cookie cutter.  (I use a small can that has both ends cut off – like an olive can or green chile pepper can)
Place on baking dish with sides lightly touching.  Bake for 10 – 14 minutes.  Brush tops with melted butter.
These light, fluffy biscuits will be a hit at your next meal!  Enjoy!
If you like my recipes, be a sweetie pie and share on Facebook,
Like my page "I Love To Cook" and Pin these yummy recipes on Pinterest.  🙂
Here's the Pinterest link for these awesome biscuits:  Light Fluffy Biscuits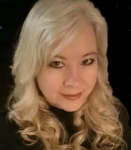 Powered by WordPress Plugins – Get the full version!