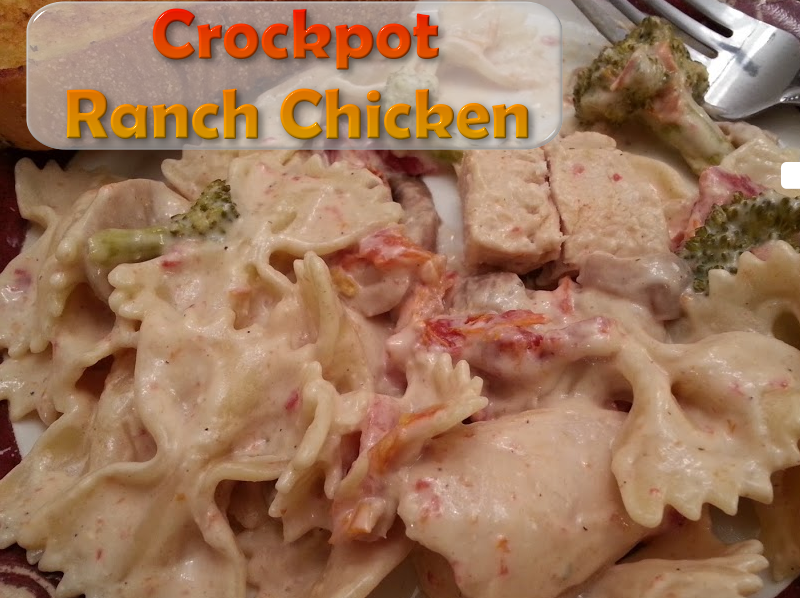 Here's a delicious crockpot meal that's simple to put together and is bursting with savory ranch flavor: Crockpot Ranch Chicken.  Boil up your favorite pasta and stir it all together for a one pot wonder.  This is a great crockpot recipe for a weeknight dinner.
Ingredients:
1 1/2 pound chicken breasts, cut into chunks
1 envelope ranch dressing mix
1 envelope chicken gravy mix
1 1/2 cups chicken stock
6 ounces cream cheese
1/4 cup julienned sun-dried tomatoes
1 cup lightly steamed broccoli florettes
1 small can sliced mushrooms (or 1/3 cup sliced, sauteed fresh mushrooms)
Directions:
Coat inside of crockpot with butter.  Add next four ingredients, cover with lid and cook on low for 3 hours or until chicken breasts are cooked all the way through.
Stir in softened cream cheese.  After it has had a chance to melt a bit, whisk to incorporate into sauce.  Add the sun-dried tomatoes, broccoli and mushrooms.  Cook for 20 minutes on low.
Meanwhile, boil a box of pasta according to package directions.  (I used Bow-tie pasta.)  Drain pasta and stir into the Crockpot Ranch Chicken, stirring to coat the pasta with the delicious sauce.
Serve with garlic bread and a salad.
If you like my recipes, do me a favor and share on Facebook,
Like my page "I Love To Cook" and Pin these yummy recipes on Pinterest.  

Here's the Pinterest link for this recipe:  Crockpot Ranch Chicken