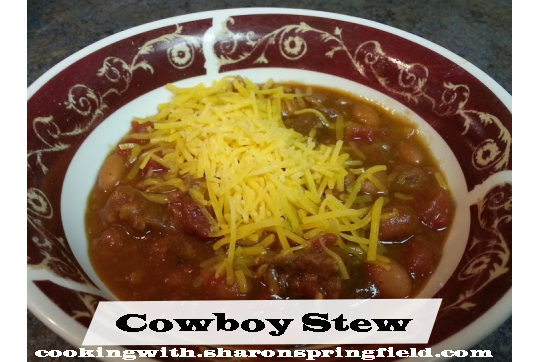 Cowboy Stew
Here's what we had for dinner tonight – Cowboy Stew. Its essentially Chili but it has steak instead of hamburger plus a secret ingredient that makes it thick and hearty.
You cook this in the crockpot, which means, throw it in the crockpot and go enjoy your life for the day. When you get home, you will be greeted with the spicy, meaty scent of this robust Cowboy Stew.
This can also be made as a "dump recipe" which you prepare ahead of time then dump it into the crockpot when you are ready to cook.   See the special instructions for this below the recipe.
Ingredients:
1 lb London broil, steak or stew meat, cut into 1/2″ cubes
1 packet taco seasoning mix
1 (14.5 oz) can Fire Roasted Southwestern Style Tomatoes (not drained)
1 (10-oz) can  Rotel Tomatoes (not drained)
1 can fat-free refried beans (minus the lard)
1 medium onion, diced
1 small red bell pepper, diced
2 (16-oz) cans pinto beans, drained
large Ziploc bag
To make immediately:
Coat the inside of crock with nonstick spray.
Pour taco seasoning into Ziploc bag.  Add meat and shake to coat.  Pour into Crockpot.  Stir in rest of ingredients except for the pinto beans.  Layer the pinto beans over the top and do not stir in.  Cover and cook on low setting for 8 – 10 hours.
To make later (dump recipe):
Throw all ingredients (except for pinto beans) into Ziploc bag.  Refrigerate until ready to cook.  When ready to cook, dump the contents of the bag into the crock and stir.  Layer the drained pinto beans over the top, Cover and cook on low for 8 – 10 hours.
I like serving the Cowboy Stew with a dense spoon cornbread. Corn muffins would be good too.  Give this recipe a try and let me know in the comments how you liked it!  Yee-haw for COWBOY STEW!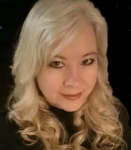 Sharon Springfield