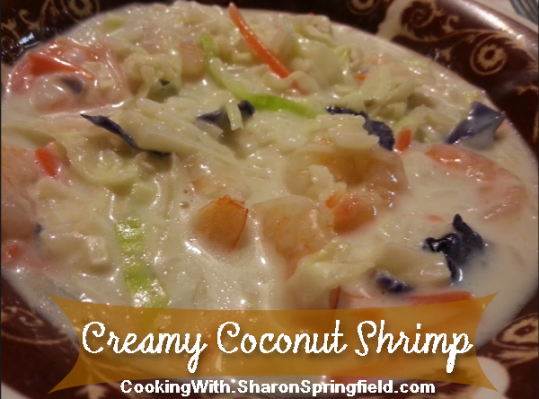 Creamy Coconut Shrimp
This recipe for Creamy Coconut Shrimp (Chinese buffet style) is adapted from a recipe I found somewhere online.  As usual, I modified it so much that I feel I can call it my own version.  You can serve this over rice or noodles.
Creamy Coconut Shrimp Recipe:
1 pound medium or large shrimp
1/2 cup coconut cream
2 tablespoons heavy cream or whole milk
1 tablespoon vanilla extract
2 tablespoons butter
1 tablespoon rum
1 teaspoon salt
1 tablespoon cornstarch
2 tablespoons sweetened condensed milk
Shell & devein shrimp – rinse – pat dry.  Season with salt.
In measuring cup, combine coconut cream, cream (or milk), and vanilla extract.
Melt butter in a sauté' pan over medium heat.  Add shrimp and sauté' until both sides are golden brown, about 2 minutes each side.  Splash in some rum and cook the shrimp for another minute.  Set aside.
In a separate pan, add the coconut cream mixture and cook over low heat.  Add condensed milk and stir in to mix.  When coconut mixture begins to bubble, add additional sugar to taste.  Simmer 3 minutes until reduced by one third.  Add cornstarch combined with a few tablespoons of water to thicken sauce.  Pour sauce over shrimp.
*optional – Mix in 1/2 bag of coleslaw (shredded cabbage & carrots) Heat through.
Serve over steamed rice or cooked noodles.
Creamy Coconut Shrimp
Pin it on Pinterest! http://www.pinterest.com/pin/280278776783943695/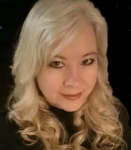 Sharon Springfield