Chicken and Dumplings is my most requested meal from my kids.  It takes some work to make this recipe, but it is absolutely worth it.  There are shortcuts you can take to speed it up a bit but the results won't be the same.  You get out of something what you put into it.  So take your time some Sunday afternoon to make this old classic recipe: Chicken and Dumplings.
To make this recipe, you will need a big pot, large enough to fit a whole chicken.  You will also need a rolling pin to roll out the dumplings.  To mix and knead the dumpling dough, I use my Kitchen-Aid stand mixer and a dough hook.  If you don't have a stand mixer with a dough hook, you are going to have a bit more manual labor involved.  Get a Kitchen-Aid stand mixer, you will thank me a million times over, trust me.  They are an awesome tool and I LOVE mine!
Ingredients for Chicken & Dumplings:
A Chicken – Giblets removed and thrown away
water
2 tsp. poultry seasoning
2 tsp. sage
1 bay leaf
salt & pepper
32 oz. carton of chicken broth
all purpose flour
Place the chicken* into a large stock pot.  (Mine is just like this one.)  Add enough water to cover the chicken.  Add the bay leaf, 1 teaspoon of poultry seasoning, 1 teaspoon sage, 1 teaspoon salt and 1/2 teaspoon pepper to the water.  Bring to a boil, reduce heat and simmer until the chicken is cooked and is falling apart.  Remove the chicken to a bowl and allow to cool enough that you can handle it.
*If you don't want to use a whole chicken, you could substitute boneless chicken breasts or thighs.  Your broth won't be as flavorful so you would want to add some chicken bouillon or stock base and use less salt.
While the chicken cools, make the dumplings.
Put 2 cups of flour in the bowl of your stand mixer.  Add 1 cup chicken broth to the bowl.  With the dough hook attachment, stir until the flour and broth form a ball.  Add additional flour if your dough is too sticky.  You want it to form a ball and it will pull itself off the sides of the bowl.  Pick up the dumpling dough ball and sprinkle a light dusting of flour over the entire surface.
Clean a 2 foot area of your kitchen counter where you will roll out your dumplings.  (I'm a germophobe so I usually use Clorox wipes and wipe the counters with a clean wet wash cloth and dry thoroughly.)
Dust the counter with some flour and also dust your rolling pin and use your hand to spread the flour over the entire rolling pin surface.  Roll out the dumpling dough into a rectangular shape to a thickness of approximately 1/4″.
Using a pizza cutter, cut the dough into 1 1/2″ strips and cut again crosswise to make squares.  Dust lightly with more flour.  (This helps to thicken the broth.)
Once the chicken is a safe temperature to handle, remove the chicken meat from the bones.  Remove any icky parts like veins, gristle, etc.  Cut the chicken meat into bite sized chunks.
Strain the broth through a strainer and clean the stock pot out to get rid of the bathtub-like ring from boiling the chicken.  Return the broth and the chicken to the pot.  Add the carton of chicken broth and remaining seasonings and taste the broth, adding more salt & pepper if needed.  Bring to a boil.
Add the dumplings a few at a time to the boiling broth, stirring so that they don't get clumped together.  Cover the pot and simmer for 15 minutes or until the dumplings are cooked all the way through.  To test this, cut a dumpling in half and see if it looks rubbery inside.  If it's white all the way through, it's done.
If you want your soup to be thicker, you can whisk together 1/4 cup flour and 1/2 cup of half & half or milk, making sure you get all the lumps out.  Add this to the chicken & dumplings and stir until the soup is thickened.  Another option is to add a couple cans of cream of chicken soup or my homemade cream of chicken soup mix.
Ladle into soup bowls and prepare to be complimented.  🙂
I know you will enjoy this Chicken & Dumplings recipe.  Trust me that it is worth every bit of work that goes into making it.
Pin it!  http://www.pinterest.com/pin/280278776783980358/
If you like my recipes, be a sweetie pie and share on Facebook,
Like my page "I Love To Cook" and Pin these yummy recipes on Pinterest.  🙂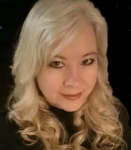 Powered by Wordpress Plugins - Get the full version!