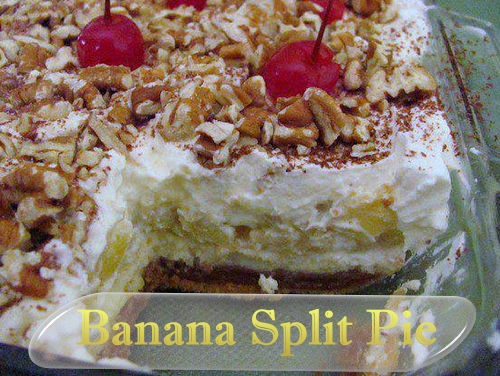 This delicious Banana Split Pie is not shaped like a pie, but it's not a cake either.  It's 9 by 13 inches of creamy, fruity goodness that you may test your self control.  Yes, it's that good!  This cool dessert is great for a summertime buffet or family party.
Banana Split Pie:
2 cups graham cracker crumbs
1 stick of butter, melted
1 (8 oz.) package cream cheese, softened
1 can sweetened condensed milk
1 large can crushed pineapple
4 bananas, sliced
1 large carton Cool Whip
chopped nuts
Maraschino cherries
cocoa powder (optional)
Mix butter and graham cracker crumbs and press into the bottom of a 9×13″ baking dish.  Thoroughly mix together the softened cream cheese and sweetened condensed milk.  Spread over the graham cracker crust, followed by the pineapple and bananas.  Spread with Cool Whip and top with nuts and cherries.  Dust with cocoa powder (optional).  Cover with plastic wrap and refrigerate until thoroughly chilled before serving.
Like this?  Pin it!  Here's the link: http://www.pinterest.com/pin/280278776783975614/
If you like my recipes, be a sweetie pie and share on Facebook,
Like my page "I Love To Cook" and Pin these yummy recipes on Pinterest.  🙂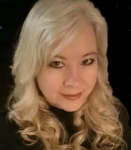 Powered by Wordpress Plugins - Get the full version!