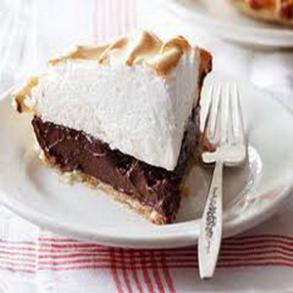 Fantastic Chocolate Cream Pie!  Try it today!
I'm sharing with you my Mother-in-law's Old Fashioned Chocolate Pie recipe. This is the pie my husband has been raving about all these years that his Mom would make when he was growing up.  There is nothing instant about this Old Fashioned Chocolate Pie.  No instant pudding, no pre-made whipped topping, but I did opt for a pre-made frozen pie crust.  And that's OK, because Judy said she did it that way too!  So if you don't mind a little bit of effort, give this Old Fashioned Chocolate Pie a try and taste a bit of history. This pie is worth it!
Old Fashioned Chocolate Pie Ingredients:
2 squares baking chocolate (or 1/2 cup cocoa + 2 tablespoons melted butter)
2 tablespoons butter
1/3 cup flour
1 cup sugar
1/4 teaspoon salt
2 1/2 cup scalded milk
3 eggs, separated
3/4 teaspoon vanilla extract
BAKED 8″ deep dish pie crust
1/3 cup sugar
Chopped nuts, if desired
Old Fashioned Chocolate Cream Pie Instructions:
Melt chocolate and butter over hot water in top of double boiler.  (Alternatively if using cocoa powder instead, melt all 4 tablespoons butter, stir in cocoa powder.)
Mix flour, sugar and salt and stir into chocolate; add milk slowly and whisk constantly until mixture is smooth and thickened, about 15 minutes over low heat.  Beat egg yolks well, stir in a little of the chocolate mixture, then pour into rest of the hot mixture and cook 2 minutes, stirring constantly.  Remove from heat, cool partially then stir in vanilla.  Pour into pie shell.
Beat egg whites until stiff, then slowly beat in the 1/3 cup sugar until stiff.  Swirl meringue over pie filling so it touches edges of crust all around.  Sprinkle with chopped nuts if desired and place in a moderate oven (350° F) 10-12 minutes, or until golden brown.  Remove to wire rack to cool before cutting.
* When I made this old fashioned chocolate cream pie, I used the cocoa powder and additional butter instead of melting bakers chocolate.  I didn't use nuts because my husband said he didn't remember his mom using nuts in her pie.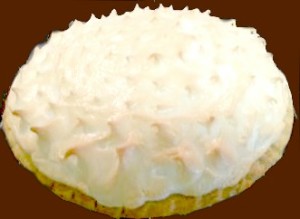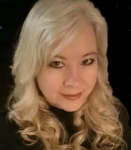 Sharon Springfield