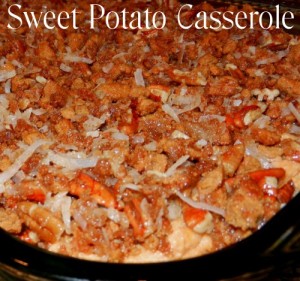 Sweet Potato Casserole
What would Thanksgiving be without Sweet Potato Casserole?    In my family, I'm the one who always gets to bring it because I know the best sweet potato casserole recipe ever!  My secret is the crunchy buttery topping with coconut, pecans and brown sugar.  It's so delicious and sweet that I usually eat it last, like a dessert.  The fluffy mashed sweet potatoes spiced with pumpkin pie spices like cinnamon, ginger and all spice are just heavenly!  So if you're looking for the best sweet potato casserole recipe, take it from this southern girl, here's the only one you need.
Sweet Potato Casserole Recipe – Cooking your sweet potatoes:
First of all, you have two options of how to cook your sweet potatoes.  You can either bake them until they're soft and scoop out the inside of the sweet potatoes and discard the skins, or you can peel the sweet potatoes, cube them and boil them in a pot of water until they are fork tender then drain them and mash with a potato masher.  I've done it both ways and they both work equally well.  I usually use about 5 or 6 medium sized sweet potatoes.
Sweet Potato Casserole Recipe
Ingredients:
Mashed cooked sweet potatoes
1 egg
1/3 cup milk or flavored liquid coffee creamer (hazelnut or vanilla)
1/2 cup brown sugar
1 teaspoon vanilla
1 teaspoon pumpkin pie spice
Mix together the above ingredients with your  mashed sweet potatoes.  Spread them into a 1 1/2 quart casserole dish.
Sweet potato casserole recipe topping:
1/4 cup softened butter
1/4 cup brown sugar
1/2 cup shredded coconut
1/2 cup pecans, chopped
Mix together the topping ingredients and sprinkle over the casserole.  Bake in a 350○F oven for 20 – 30 minutes.  The topping should be bubbly and browned.  The smell should be amazing and will summon you to the oven when it's getting close to done.  Serve this awesome comfort food at your next Thanksgiving or Christmas dinner and everyone will be begging you for your Sweet Potato Casserole Recipe.
Remember to return often to my blog for more great recipes.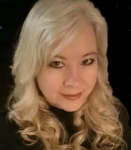 Sharon Springfield