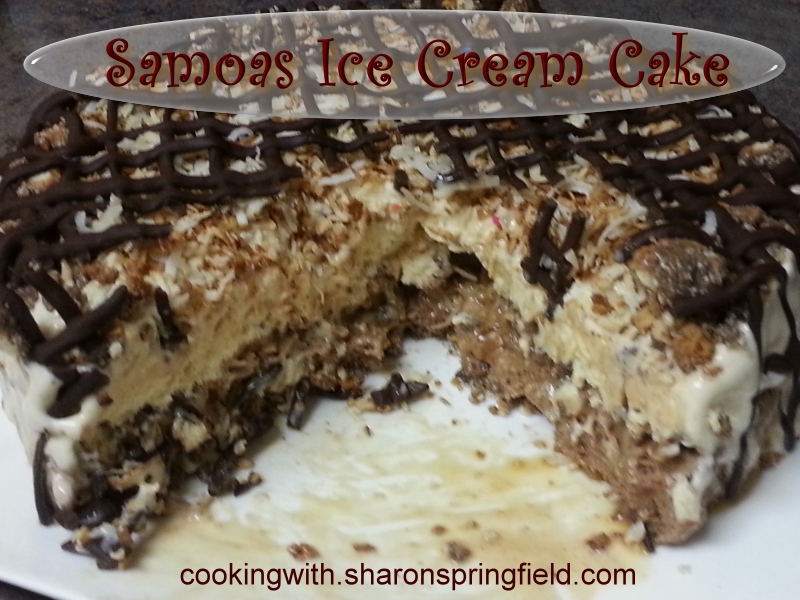 Recently as my son's birthday was approaching, asked him what kind of birthday cake he wanted and gave him my phone to flip through my pinterest recipe board.  He saw a recipe for Samoas bars and said he wanted an ice cream cake with Samoas bars on top.  So, I took on his challenge and came up with this fantastic ice cream cake with the great taste of Samoas Girl Scout cookies.
However, his birthday is not at the time that you can buy Samoas, so I had to improvise.  Keebler makes a cookie that's pretty close, so that's what I used instead of the real deal.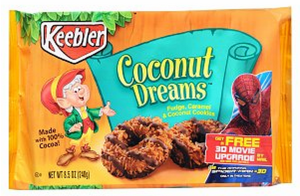 This ice cream cake is made in the same fashion as the one I posted last year, so refer to my prior post on how to make a homemade ice cream cake for more detailed instructions and pictures of the process.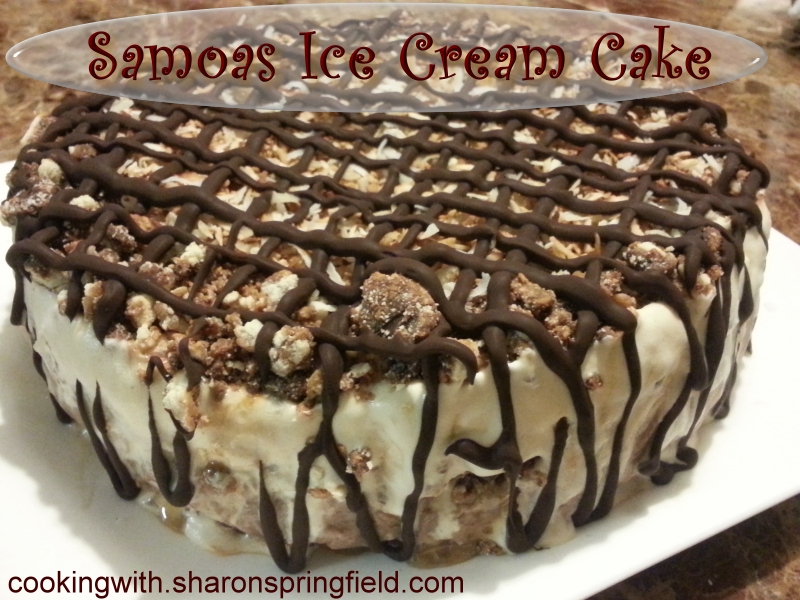 For the Samoas Ice Cream Cake, you will need the following ingredients:
Ingredients:
2 pkg Keebler Coconut Dreams cookies or Samoas Girl Scout Cookies
1/2 gal chocolate ice cream or frozen yogurt
1/2 gal dulce de leche (caramel) ice cream or frozen yogurt
1 bag of shredded coconut
caramel sauce
chocolate chips
Directions:
First, prepare a springform pan by lining it with plastic wrap.
Using a food processor, chop up the cookies into crumbles.  Do not turn them to dust, there should be some chunks.
Toast the coconut in a nonstick skillet.  You will need to do this in about 3 batches for a whole bag of coconut.  (I actually only did about 2/3 of the bag and that was enough for the size of cake I made. )
Turn the heat up to medium, add a thin layer of shredded coconut to the skillet and stir it frequently until the coconut is a golden color.  Add to a bowl and set aside.
While you are toasting the coconut, you can have your chocolate ice cream sitting out to soften. (about 10 minutes)
Now you have everything ready to go to start assembling the ice cream cake.
Sprinkle the crumbled cookies on the bottom of the springform pan.  You will use approximately half of the crumbs for the bottom layer.
Spoon scoops of ice cream over the crumb layer until the entire crumb layer is covered with about an inch and a half layer of ice cream.  Sprinkle another layer of cookie crumbs and about half of your toasted coconut over the ice cream and drizzle with caramel.  Cover with plastic wrap and very gently press down just to even out the layer.  Be careful, the ice cream is soft and you don't want to push it too hard.
Freeze this layer until it is firm.
Soften the dulce de leche ice cream for about 10 minutes.  Add a layer of dulce de leche ice cream to your springform pan.  If you have any more cookie crumbs left over, sprinkle them around the outer edge of the top of the ice cream layer.  Fill in with the rest of your toasted coconut and lightly drizzle with more caramel.  Cover and freeze until the ice cream cake is solid.
Remove the cake from the freezer and remove the springform ring.  Using the plastic wrap, lift the ice cream cake off the bottom of the springform cake pan and place the cake on your cake stand.  Slip out the plastic wrap.
Melt about half a bag of chocolate chips in the microwave.  Transfer the chocolate to a small zip-lock bag.  Snip the corner of your baggie and squeeze the melted chocolate over top of the cake.  Place the cake back in the freezer uncovered until the chocolate is hardened then cover with plastic wrap.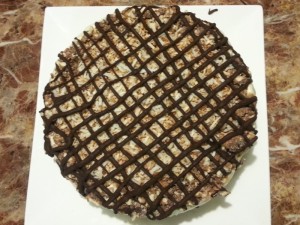 And that's it!  Slice and serve.  Be prepared to hear lots of mmmm's, this is a great ice cream cake!  My son said it's the best dessert he has ever had in his life.  Nice compliment!
Enjoy this delicious Samoas Ice Cream cake!
If you like my recipes, be a sweetie pie and share on Facebook,
Like my page "I Love To Cook" and Pin these yummy recipes on Pinterest.  🙂
Here's the Pinterest link for this recipe:  Samoas Ice Cream Cake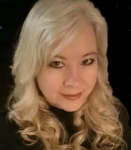 Powered by WordPress Plugins – Get the full version!