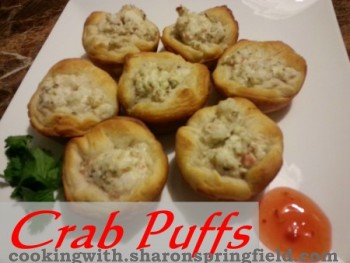 Crab Puffs
Crab Puffs are a delicious and easy appetizer to prepare and enjoy.  Canned flaky biscuits make up the crust and the creamy filling is made of just 3 ingredients and whips up in just a minute.  Wonton wrappers could be substituted for the biscuits and you'd have baked crab rangoon.
Ingredients:
Pillsbury Grands Flaky Biscuits
8 oz crabmeat, drained or fake crab (surimi)
8 oz onion & chive cream cheese
2 Tbs Ranch dressing mix
Preheat oven to 400° F.  Prepare a regular sized muffin tin by brushing the insides with canola oil or spray with nonstick spray.
Divide each biscuit crosswise so you have two discs from each biscuit.  Press into the muffin cups.
Place the remaining ingredients into a bowl and stir until well combined.  I use my Kitchenaid stand mixer and the batter paddle.
Scoop about a tablespoon of filling into each lined muffin tin.
Bake for 10 minutes.
* You could make little crab turnovers instead by stretching out each biscuit half onto a greased baking sheet, placing the filling in the center and folding the biscuit dough over and pressing the edges down.  Bake for 10 minutes.
These crab puff appetizers are excellent served with sweet chili sauce.
Crab Puffs
Pin It!  http://www.pinterest.com/pin/280278776783419772/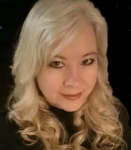 Sharon Springfield