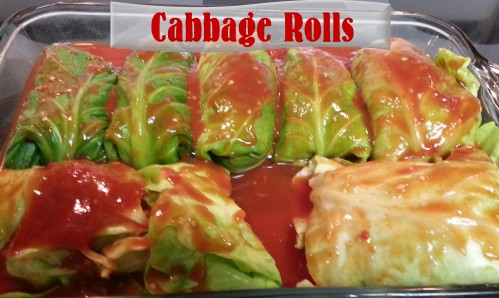 Cabbage Rolls Recipe
This recipe for cabbage rolls is from my mother-in-law.  When I married her son, I asked her to share with me some of his favorite recipes so that I could "make it like Mom made it".  My hubby always appreciates it when I take the time to make his mom's Cabbage Rolls, which always makes me happy too!  I hope you enjoy the recipe. 🙂
Cabbage Roll Filling Ingredients:
1 pound ground chuck
1 cup cooked rice
1 egg, beaten
1/3 cup Worcestershire sauce
1 small onion, chopped
1 red bell pepper, chopped
dash of salt & pepper
dash of garlic powder
dash of cayenne pepper
Steamed cabbage leaves
Cabbage Rolls Sauce Ingredients:
2 cups tomato sauce
1 tablespoon apple cider vinegar
1 tablespoon sugar
dash of garlic
Mix uncooked meat, cooked rice, onion, peppers and seasonings in a large bowl.  Place some meat mixture in the middle of a cabbage leaf and roll up.  (like you'd roll up a burrito)
Place the cabbage rolls in a 9×13″ glass baking dish or cast iron bakeware.  Pour sauce over the top.  Cover baking dish with foil.  Bake in a 350º F oven for 40 minutes or until the meat is cooked through.
Pin it!  Here's the link: http://www.pinterest.com/pin/280278776783963074/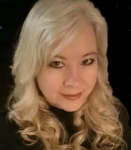 Sharon Springfield