Skinny Strawberry Chocolate Chip Muffins
Ingredients:
1 and 1/4 cups all-purpose flour
1/2 teaspoon baking soda
1/2 teaspoon ground cinnamon
1/4 cup granulated sugar
1/4 cup light brown sugar, packed
1/2 cup + 2 Tablespoons unsweetened applesauce
1 egg white, beaten
2/3 cup diced strawberries
1/3 cup mini chocolate chips
Directions:
Preheat oven to 350º F degrees. Spray a muffin pan with nonstick cooking spray. Set aside.
In a large bowl, gently toss the flour, baking soda, and cinnamon. Set aside. In a separate bowl, mix the brown sugar, granulated sugar, and applesauce until together until no brown sugar lumps remain – a fork works well to break up the brown sugar here. Add the beaten egg white until fully incorporated. Add the wet ingredients to the dry until *just* combined – do not overmix. Fold in the strawberries and chocolate chips.
Divide the batter evenly between 10 muffin cups. Bake for 15-20 minutes. Muffins will be lightly golden in color and a toothpick inserted in the middle should come out clean.  Allow muffins to cool and enjoy!
Muffins stay fresh in an airtight container at room temperature for 7 days.  Muffins can be frozen.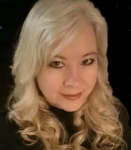 Powered by Wordpress Plugins - Get the full version!
Strawberry Chocolate Chip Muffins