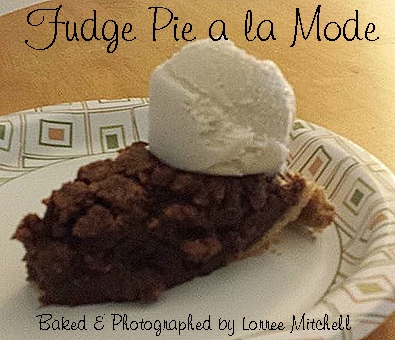 Thank you Lorree for this delicious Fudge Pie!
2/3 cup evaporated milk
1/2 (12-oz) package semisweet chocolate morsels
2 Tablespoons butter
1 cup sugar
2 Tablespoons all purpose flour
2 large eggs
2 teaspoons vanilla extract
3/4 teaspoon kosher salt
1 cup chopped pecans
1 (9-inch) frozen unbaked pie crust
Ice cream
Preheat oven to 375F. Microwave first 3 ingredients in a large microwave safe bowl on high for1-1 1/2 minutes or until melted and smooth, whisking every 30 seconds.
Whisk sugar and flour into chocolate mixture. Add eggs one at a time, whisking just until blended. Whisk in vanilla and salt. Stir in pecans. Pour into pie shell.
Bake at 375 for 35-40 minutes or until set.
Cool 10 minutes before serving. Serve with ice cream.
Pin it!  Here's the link:  http://www.pinterest.com/pin/280278776784119100/