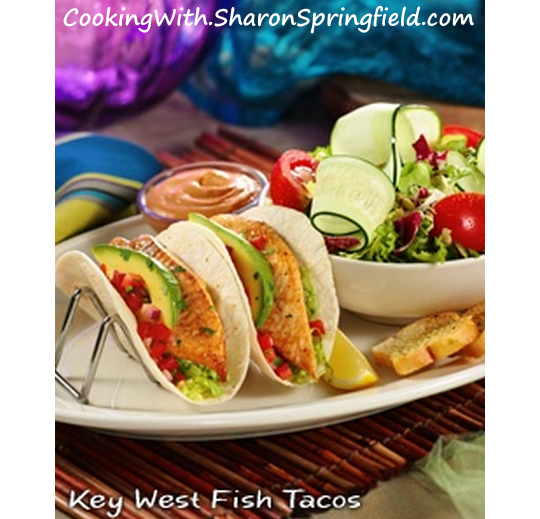 Fish Tacos
Fish Tacos Recipe – Copycat Recipe Bahama Breeze Fish Tacos
Here's the best fish tacos recipe I've found – it's a copycat recipe from Bahama Breeze restaurant.  Just the perfect blend of tropical flavors and spicy salsa.  Give this great fish taco recipe a try.  You'll love it!
Yield: 6 tacos, 2 servings
2 tablespoons olive oil
6 (2-ounce) pieces fresh whitefish, cut 1/2-inch thick
Salt and pepper to taste
6 flour tortillas
1 1/2 cups shredded iceberg lettuce
3/4 cup vine-ripened tomato salsa (see note)
1/2 of an avocado, cut into 6 slices
6 cilantro sprigs
Creamy Taco Sauce (recipe below)
Marinate the fish in a ziplock bag with lime juice, minced garlic, cumin, chili powder and adobo seasoning for 1 hour in the refrigerator.
Heat a 10-inch sauté pan on medium-high heat; add the olive oil. Place the seasoned fish in the heated pan and reduce heat to medium; sauté the fish for 2-3 minutes per side, just until it flakes easily and is cooked through to an internal temperature of 145F.
Place the flour tortillas on a dinner plate; top with a moist paper towel and microwave for 20 seconds.
Spread 2 tablespoons of creamy taco sauce around on tortilla.  Place one piece of seared fish in the center of tortilla; top each piece of fish with 1/4 cup shredded iceberg lettuce, 2 tablespoons vine-ripened tomato salsa, 1 slice of avocado and 1 cilantro sprig.
How to make the vine-ripened tomato salsa: Place 1/2 cup diced vine-ripened tomatoes, 1/4 cup diced onions, 1 tablespoon olive oil, 1 tablespoon freshly squeezed lime juice, 1/4 teaspoon Kosher salt, 1/4 teaspoon minced jalapeno and 1 tablespoon freshly chopped cilantro in bowl. Using a rubber spatula gently mix until combined; keep refrigerated until ready to serve.
How to make creamy taco sauce:  In a small bowl, whisk together 2 tablespoons salsa, 3 tablespoons pepper mayonnaise, 1 teaspoon Dijon mustard, 1 teaspoon honey, 2 tablespoons lime juice, 1 teaspoon apple cider vinegar, 2 tablespoons jelly (apricot, pineapple or orange marmalade will each work fine), 1/4 cup sour cream, a dash each cumin and chili powder, a couple dashes hot sauce (I used Cholula chipotle hot sauce).  Keep refrigerated.
Hope you will enjoy this great fish taco recipe!  It's really the best you'll ever have!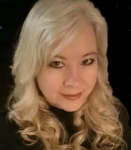 Sharon Springfield