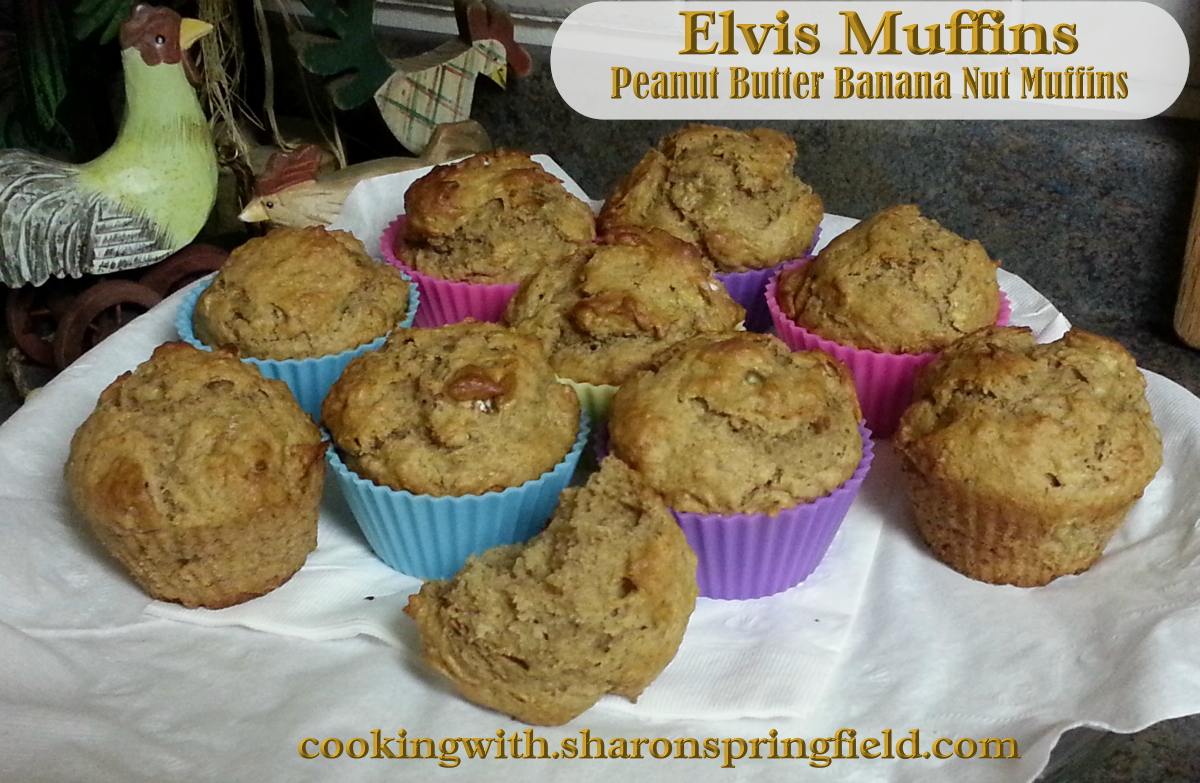 This classic combination, made famous by Elvis – Peanut Butter & Bananas, come together in these delicious, moist muffins.  These muffins are so good, you won't want to stop eating them!  Personally, I may never make regular Banana Nut Muffins again.
These muffins were my first time using my new Silicone Cupcake Liners.  Love, love, love them!  The muffins practically fell out of them and to clean them, I just turned them inside out and brushed them with a little soapy water.  Super easy to clean.  No kidding, you need to get a set of these. You're welcome. 🙂


Recipe for Elvis Muffins – Peanut Butter Banana Nut Muffins
Preheat oven to 375º F.  Prepare muffin pans by greasing them with cooking oil or non stick spray or line them with cupcake liners.  (Silicone ones work the best! – See above.)
In one bowl, whisk together:
1 1/2 cup all purpose flour
1/2 cup whole wheat flour
2 teaspoons baking powder
1 teaspoon cinnamon
1/2 teaspoon baking soda
1/4 teaspoon salt
1/8 teaspoon nutmeg
2/3 cup chopped pecans
In another bowl, whisk together:
1 egg
3 mashed bananas
3/4 cup light brown sugar
4 heaping tablespoons of peanut butter
1/4 cup cooking oil
1 teaspoon vanilla
Add flour mixture to wet ingredients.  Stir just until combined.  Don't over mix.  Batter should be smooth.
Spoon into muffin cups.  Fill 3/4 full.
Bake about 15-18 minutes.  Toothpick inserted in center of muffin will come out clean.   Cool a few minutes before removing from pan.
*When I made these, there was some batter left over so I greased a small loaf pan and made a little mini loaf of peanut butter banana bread.
Pin it!  Here's the link: http://www.pinterest.com/pin/280278776784157161/