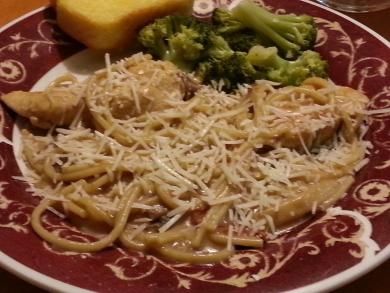 This is a great, quick dinner recipe: Chicken Marsala Spaghetti.  I whipped this up in under 30 minutes.  Add some steamed broccoli and garlic bread and you've got a delicious, satisfying meal.  Here's what you need to make Chicken Marsala Spaghetti and how to put it together.
Chicken Marsala Spaghetti Ingredients:
1 pound boneless, skinless chicken breasts, sliced into 3/4″ thick cutlets
1 small onion, diced
1 small package fresh mushrooms, cleaned, sliced
1 tablespoon olive oil
1 tablespoon minced garlic
dash of poultry seasoning
1/2 cup Marsala cooking wine
envelope of mushroom gravy mix
2 tablespoons flour
2 cups chicken broth
1/2 cup evaporated milk
2 tablespoons diced sun-dried tomatoes (jarred in oil but drained)
1/4 cup Parmesan cheese (plus more for garnish)
8 oz dried spaghetti, broken in thirds and cooked according to pkg. directions
Chicken Marsala Spaghetti Instructions:
Heat olive oil in deep nonstick frying pan.  Sprinkle poultry seasoning on chicken cutlets and place in heated frying pan.  Add minced garlic and stir around chicken.  Cook over med-high heat until both sides are lightly browned.  Remove from pan.  De-glaze pan with wine and add the onions and mushrooms.  Simmer over medium heat until onions are tender.  Sprinkle the dry mushroom gravy mix over the onions & mushrooms.
In a medium bowl, whisk together the flour and chicken broth.  Stir this into the frying pan, turn up the heat and stir until mixture becomes thickened.  Add the Parmesan cheese and sun-dried tomatoes.  Add chicken and any juices from the chicken back into the pan.  Stir in the evaporated milk and the cooked spaghetti.  Taste it and if you want, add salt & pepper.
That's it, an easy, delicious dinner that's nice enough to serve to company yet simple enough to make for a weeknight dinner.  To round out your Chicken Marsala Spaghetti dinner, serve with steamed broccoli and garlic bread.
Hope you enjoy the Chicken Marsala Spaghetti Recipe!
Remember to Like, Share, and Pin!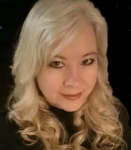 Sharon Springfield